Apple Push Notification Service Certificate Renewal
Last updated
Summary
This How-To explains how to renew an APNS (Apple Push Notification Service) certificate manually.
When renewing the Apple Push Notification Service certificate on Silverback Version 21.0 Update 1 or newer, it is required to generate a new Device Enrollment Program token, due to the change of the public key.
Please perform the renewal process with Chrome or Firefox instead of Internet Explorer, because Internet Explorer runs into different issues.
Renewal Process
In the Silverback Console click on Admin - Certificates - Request Certificate
In the next PopUp choose I will perform the signing myself
Please click on Download in the next screen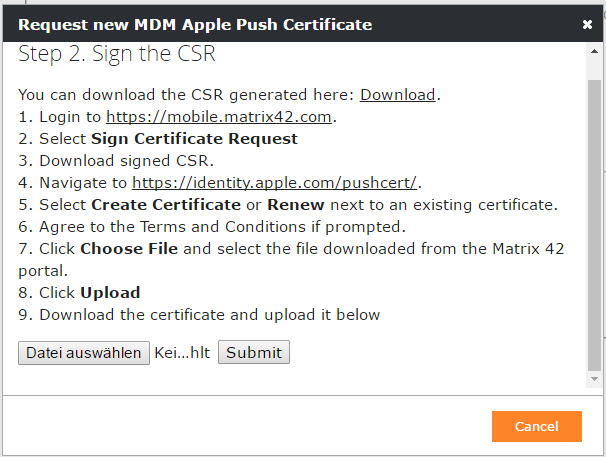 Follow the steps from screen above
If you click on the link https://mobile.matrix42.com you will need to login with your existing Matrix42 Account in the next screen. Please be careful and use the same Account as used before for the Original APNS Request
If you are not sure, click on History to see the existing Requests.
Choose and Paste the downloaded CSR from Step before - checkmark the tick box and confirm this
Download the signed request
Click on the link to switch to the Apple Identity Portal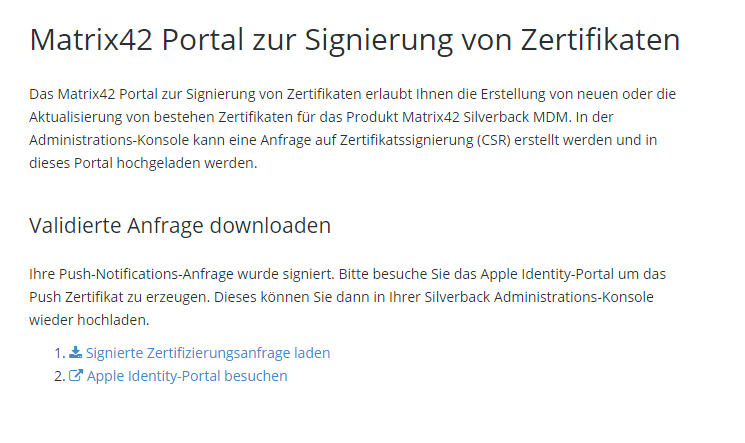 Be careful in the Apple Portal, because if you 'Renew' the WRONG certificate the connection to the enrolled devices gets lost and the devices needs to be re-enrolled in Silverback.
After click on 'Renew' on the right certificate choose the 'SignedCSR' from the Matrix42 Portal and confirm with 'Upload'
Download the generated PEM and switch back to the Silverback Console
Choose the downloaded PEM like described in Step 9. and click on Submit
Finally you have a 'renewed' certificate valid for 1 year in the Silverback Console and the connection between the iOS devices and Silverback is guaranteed - for testing please click on one device and try to lock it
Common Questions
This FAQ should address frequent problems and challenges when creating or extending Apple iOS APNS certificates.
I get an an error message when I chose to let Silverback sign the request automatically. A web browser page pops up to Matrix42 Accounts error message "The resource you are looking for has been removed, had its name changed, or is temporarily unavailable."
This is most likely a problem with your Matrix42 Account permission. Please contact the Matrix42 support to correct the permission settings, or cancel the current request and start the process again and choose 'I will perform the signing by myself' as the CSR signing option.
Which Matrix42 Account permissions does an admin need to use the automatic Silverback request feature?
The admin needs 'Enterprise Manager' permission for his Matrix42 Account.
What can be the reason for a non-matching Apple APNS topic?
Typically this is because you used the wrong Apple ID. Cancel the current CSR request, and find out the correct Apple ID used for the initial APNS creation.