Virtual Environment
Last updated
How to view the virtual infrastructure created during the discovery process.
Overview
Virtual Environment provides view of live monitored data from the active attributes shown within the infrastructure mapped from the API.
Virtual Environment Infrastructure
Click on Explore > Virtual Environment > Infrastructure to display the Explore Virtual Infrastructure page.
Click View Host Summary in the upper right of the screen to view additional details on each VM host in the environment and the Virtual Host Summary page will be displayed as shown below.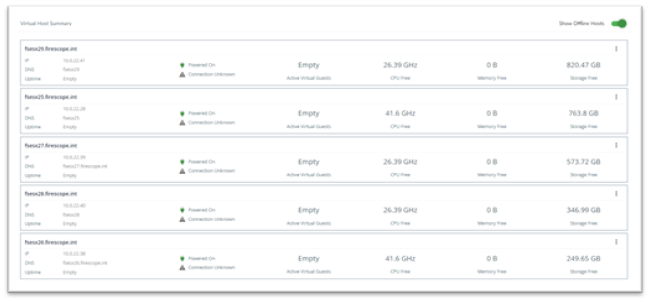 Show Offline Hosts: You can list or view online VMs only or to show all VMs including that that are offline, but changing the switch in the upper right of the page.
Click on the arrow to the left of the host name to see the list VM names.
Virtual Environment Topology
Click on Explore > Virtual Environment > Topology to display the Explore Topology Map page.
You may move the map by pressing and holding on the first node in the map and dragging the map around on the page.
Additional details can be shown or hidden by clicking on nodes in the map.