Release Notes for Software Asset and Service Management 9.1 Update 2
Last updated
About this Release
Functional Changes
This release provides a couple of functional changes - new features and improvements - listed here.
Highlights:
Software Asset Management
In License Management there are now much more charts available on the dashboard. In addition, the charts have been grouped to improve usability.
The configuration item 'Computer' was extended by data definitions previously only available with configuration item 'Mobile Device'. Alongside, we have improved both, the preview and the edit form of 'Computer' for more usability.
While adding base licenses, it is now possible to select if restrictions or reservations should be inherited or not, also providing much more efficiency to the user managing the license inventory.
Since we have understood that setting-up license positions in License Management for Matrix42 Software Asset & Service Management can be quite a challenge, we added extensive support to create license requirements for installed certificates. With this improvement, license administrators have an excellent baseline to reconcile their contracts with technical reality.
Service Management
Automatic Time Tracking: While working on incidents users are now able to track their working time automatically. This provides much more accuracy for subsequent effort analysis on one side and facilitates the time-tracking challenge for service desk agents on the other side.
Miscellaneous
The calendar dataset view was extended now providing rich capabilities to display events and deadlines. These improvements are coloring and grouping, whole-day-events as well as read-only items.
Pre-installed e-Mail-Templates used with Compliance Rules have been migrated to support extended capabilities of the new e-Mail descriptors.
It is possible to easily migrate custom e-mail-Templates for Compliance Rules to use the new e-Mail descriptors.
If you are building your own application or extend existing applications with user interface elements, you now may provide previews for data objects displaying the corresponding edit form in a read-only mode. This will significantly reduce the amount of user interface design work.
License Metering
With this new release, our software supports you in auditing your Matrix42 software licenses. The software now has a function that requests information about the licensing of the Matrix42 software at regular intervals and transmits the number of licenses used (by devices and users) to us. Personal data is not collected. The data transmitted with each process can be viewed on the server in the 'metering' sub-directory.
Further details can be found in the product documentation.
Known Issues
Editing Software Products using Classic User Interface
If you are using Software Asset Management with classic (legacy) user interface, license requirement may be deleted unexpectedly.
If a software product is edited using the Classic User Interface and the status drop-down control shows "please select value" when you save, all license requirements related to this software product will be deleted.
We commend that you set the status for all reported software products to a valid value before updating to this version.
VMware Inventory
It's required to use VMware PowerCLI 11.3 with data provider "VMware Inventory" due to issues identified in previous versions (link to online help). This applies not only to VMware Inventory data provider but also to VMware workflow activities.
Mobile Browser Issue
Due to latest updates on mobile versions of Chrome (73.x) and Safari using iOS 12.1.4 application, buttons might not be visible in dialogs and forms. Firefox 15.0 (13894) might be used on mobile devices until Matrix42 is providing a hotfix to solve the problem.
Desktop versions of the mentioned browsers are not affected.
This issue affects all currently supported versions of Matrix42 Software Asset & Service Management.
AirWatch 8.0
This information is only relevant when updating from product versions earlier than AirWatch 8.0.
Because of technical restrictions of the AirWatch REST API, SIM cards can currently be identified only by phone number. This can lead to mismatches (wrong assignments) because of ambiguities in approximately 20% of cases. As a temporary workaround, we offer the possibility to switch off mapping of SIM cards directly in the Data Provider settings. This issue requires changes in the AirWatch software. We are currently communicating with responsible owners at AirWatch to have this problem resolved as soon as possible. We want to continue providing full SIM card reconciliation in future product versions. We apologize for any inconveniences.
Customized LDAP Workflows
Customized LDAP workflow can be broken because of the breaking change in execution contract of the LDAP: Import Groups and LDAP: Membership import definitions. Because of the additional input parameter DomainId to these GDIEs, the ExecuteGDI workflow activity in the customized LDAP workflow does not meet the input contract and fails the workflow execution.
Set up the DomainId parameter for Execute GDI Sequence activities with names GDIE Group and GDIE Membership to solve this issue.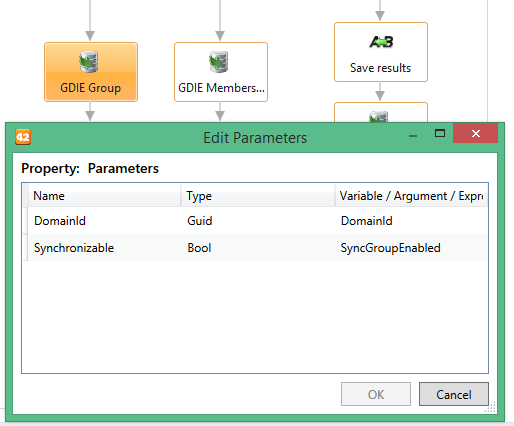 Important Announcements
In one of the next releases "Mobile Device" will be merged into configuration item "Computer".
As for the standard product, all necessary changes will be made automatically preserving all your data. However, if you have any customizing around "Mobile Device" in your environment, you will need to review and possibly adjust them regarding:
Data definitions
Import definitions
Compliance rules
Workflows
User Interface
Search Queries
New e-mail Engine for standard e-mail Notifications.
New Email Engine has replaced Alerting Engine. Now the new Email Engine is used by default for processing all standard email notifications defined in the Compliance Rules. These changes are not applied to the customized and custom Compliance Rules used in pair with the legacy Alerting Engine.
Please make sure that the customized and custom Email Descriptors are manually adjusted and corresponding Compliance Rules are switched to the new Email Engine as the Alerting Engine will be smoothly discontinued.
The Alerting module will be discontinued in the following schedule:

Q3/19 (9.1.2)

Default not-customized Mail Notification uses the new Email Engine

Q1/20

All Compliance Rules are automatically switched to use New Email Engine with the possibility to fallback.
Alerting is part of the delivery, but not maintained.

Q3/20

Alerting fully removed from the Product
Learn more on how to adjust Email Descriptors and migrate Compliance Rules to the new Email Engine.
Updating from previous versions
Important and Breaking Changes
Solved Problems
Please check solved problems that are relevant to you since your currently installed version has been released.
Supported Versions
The setup program can be used to update existing installations of product version 8.0.2 or higher.
Updating from Version 8.1.0.1649
If you are updating from version 8.1.0.1649, you must remove following files from folder <setup folder>\root\web\bin before updating to this version:
extensibility.dll
update4u.Templates.VS2010.Addin.Workflows.dll
update4u.Templates.VS2010.Core.dll
Please note that if you want to update from any version before 8.1.7 directly to a 9.1.x version you need to take an intermediate step to 8.1.7.
Expired Maintenance for Version 8.1
Please note that with general availability of version 9.1 the maintenance for "Workspace Management 8.1" (latest update version provided is 8.1.4) has expired. We strongly recommend that systems with this version are updated to a supported product version as soon as possible.
General Information and Resources
Available information and resources about the product: