Support of SCCM Maintenance Windows
Last updated
This documentation describes the feature "Support of SCCM maintenance windows" and the general changes in the whole product.
With the implementation of the feature with version 21.0 the EM-Server and EM-Agent now not only knows the device collections to distribute software, but per device collections so called maintenance windows can be created. Per device collection you can create as many maintenance windows as you want. The EM-Server imports this information via its own import and so it can be read and implemented by the EM-Agent when distributing software.
We support all configuration options that SCCM offers, except the deployment area "Software updates".
If one or more maintenance windows have been created, the EM can now import them. To do this, you will find a new import named "SERVICEWINDOWS" in the EM web console under Administration - Data - Import.

After a successful import of the maintenance windows, there is now another field in EM push or mass rollouts to consider or ignore the maintenance windows. You can authorize this option as usual in the authorization roles.
The "Administrators" role has this option active by default!
Ab sofort kann bei jedem EM Push- oder Massenrollout im zweiten Step das Wartungsfenster pro Auftrag berücksichtigt werden.
From now on, the maintenance window per order can be taken into account in the second step of every EM push or mass rollout.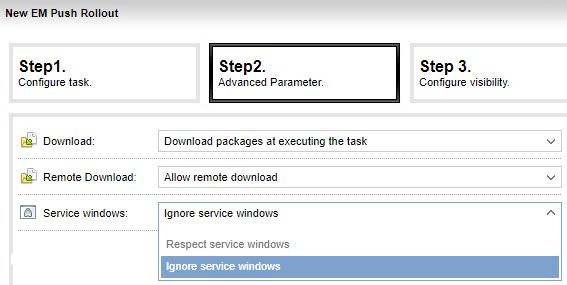 If the order was created and the configured maintenance window is to be taken into account, the end user can only start or book his order if there is a maintenance window. If there is no maintenance window, the end user will receive a message when starting and when booking in the calendar, only the areas where there is a maintenance window will be free.