Microsoft SQL Server - license entitlement for virtualization
Last updated
Overview
The Product Use Rights stipulate that a license for Microsoft SQL Server must be assigned to a "server". A "server" is a physical computer. As a result, licenses must not be assigned to virtual machines. Corresponding license requirements that are based on SQL Server installations in virtual machines are therefore transferred to the current and historical hosts.
The process of assigning a license to a license requirement for an eligible consumer is called license entitlement.
For SQL servers installed on virtual machines, the following license entitlement logic applies:
The fingerprint is used to detect an SQL Server installation on a virtual machine "A" and entitle respective license requirements.
The system checks the used license model and consolidates (cancels) the license requirement for the virtual machine, since licensing must be done for a physical device.
The system creates a license requirement for an SQL Server and references the consolidated license requirement for the virtual machine as foundations.
Consolidating license requirements for virtual machines
This license requirement for a virtual machine has been consolidated within the license entitlement.
On the Consolidation dialog page, users can view for which physical computers (current or former hosts of the VM) license requirements have been created.
Creating license requirements for hosts
The license requirement for the host lists the underlying license requirements for virtual machines to ensure 100% transparency of correlations.
The following diagram illustrates the automatic license entitlement process: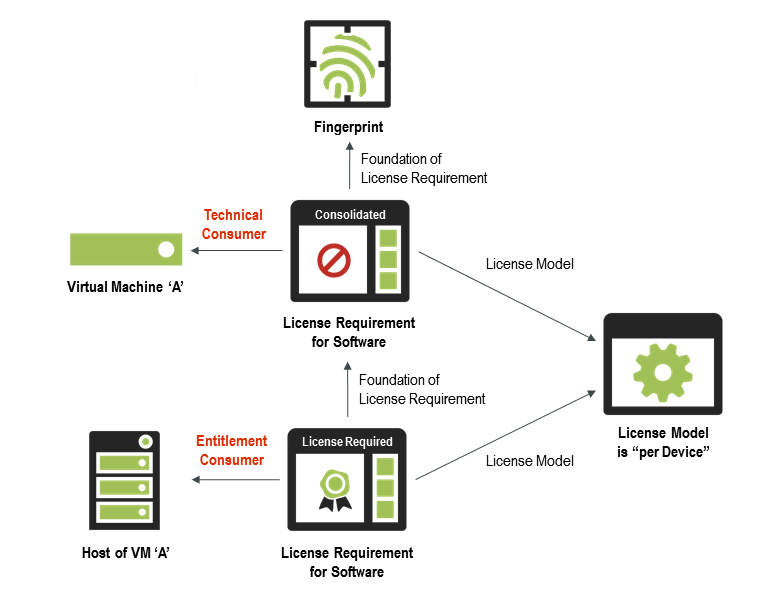 This logic is used for all virtualized SQL servers, although ultimately, only a physical host requires an effective license. The license model used for this host defines an amount of required licenses based on the metric, the scope of virtualization permitted for one license and the license mobility.
In case a license model does not provide any virtualization rights or provides only limited rights, the system will account for this situation automatically, resulting in stacking. In this case, even server- or processor-based licensing requires more licenses than the quantity that is based on the respective metric, since excess virtual instances create additional license requirements.