Release Notes for Software Asset and Service Management 9.1 Update 1
Last updated
About this Release
Release notes apply to version 9.1.1.2542 (official release 13.06.2019) and higher
Functional Changes
This release provides a couple of functional changes - new features and improvements - listed here.
Highlights:
Software Asset Management
In the global system settings of the "Licenses" application, you can now set the status values of software products for which the system creates license requirements. It is now possible to limit the amount of created license requirements to those software products that are actively managed. In this way - depending on the application of this option - the time required to calculate the license requirements can be significantly reduced and system resources can be saved.
When editing numerous configuration elements, it is now possible to execute the actions for the opened data record from the edit form. This facilitates working with data objects in many cases. Previously, actions were only accessible from the preview page. You can use the SolutionBuilder to adjust the visibility of actions in all edit forms.
The preview of stock-keeping-unit displays a pie chart that shows the assets associated by status. By clicking on the pie chart, the corresponding data records are listed so that direct access to the corresponding assets is possible.
For the maintenance of base-licenses, now a new action is available for licenses, which makes it possible to add several licenses as a base in one step. In addition, it is still possible to add a single license as a base in the editing dialog.
When creating new licenses or editing existing license objects, the system now automatically searches the license inventory and the LIS catalog for matches by manufacturer part number (SKU) and displays them in a drop-down list. After selecting the desired entry, selected data can be copied to the edited license.
The configuration of the agent for remote usage tracking has been completely moved to the user interface. All parameters can now be conveniently set via the Global System Settings of the "Licenses" application. This eliminates the error-prone editing of configuration files on the file system.
Service Management
For service bundles and service groups, it is now possible to make the display in the self-service catalog more space-saving. This provides significantly improved clarity for the end user if a bundle or group comprises several service components. A corresponding display option is available for the configuration of the corresponding service.
General User Experience
We have further improved the support of the ARIA standard and thus optimized the operation of the user interface for people with disabilities. By applying the WCAG standard guidelines, the interaction between people with visual impairments and the Service Desk module of the Matrix42 Software Asset & Service Management has been improved. The focus here is on navigation and finding individual elements. This is achieved by tagging elements, images and dialogue areas.
Known Issues
Add base license for License Conversion
Adding base license to license of type "License Conversion" is not working properly. This issue was solved with the hotfix 9.1.1.2562.
VMware Inventory
It's required to use VMware PowerCLI 11.2 with data provider "VMware Inventory" due to issues identified in versions prior to 11.2 (link to online help).
Mobile Browser Issue
Due to latest updates on mobile versions of Chrome (73.x) and Safari using iOS 12.1.4 application, buttons might not be visible in dialogs and forms. Firefox 15.0 (13894) might be used on mobile devices until Matrix42 is providing a hotfix to solve the problem.
Desktop versions of the mentioned browsers are not affected.
This issue affects all currently supported versions of Matrix42 Software Asset & Service Management.
AirWatch 8.0
This information is only relevant when updating from product versions earlier than AirWatch 8.0.
Because of technical restrictions of the AirWatch REST API, SIM cards can currently be identified only by phone number. This can lead to mismatches (wrong assignments) because of ambiguities in approximately 20% of cases. As a temporary workaround, we offer the possibility to switch off mapping of SIM cards directly in the Data Provider settings. This issue requires changes in the AirWatch software. We are currently communicating with responsible owners at AirWatch to have this problem resolved as soon as possible. We want to continue providing full SIM card reconciliation in future product versions. We apologize for any inconveniences.
Customized LDAP Workflows
Customized LDAP workflow can be broken because of the breaking change in execution contract of the LDAP: Import Groups and LDAP: Membership import definitions. Because of the additional input parameter DomainId to these GDIEs, the ExecuteGDI workflow activity in the customized LDAP workflow does not meet the input contract and fails the workflow execution.
Set up the DomainId parameter for Execute GDI Sequence activities with names GDIE Group and GDIE Membership to solve this issue.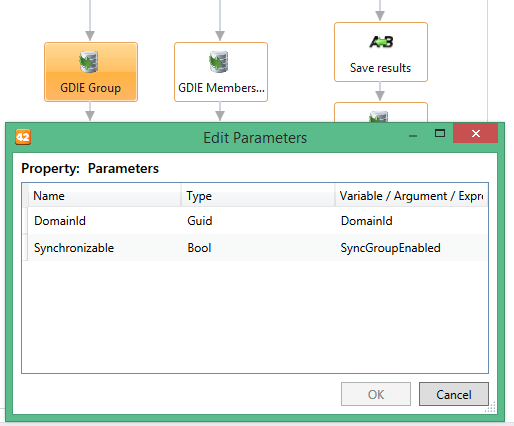 Important Announcements
In one of the next releases "Mobile Device" will be merged into configuration item "Computer".
As for the standard product, all necessary changes will be made automatically preserving all your data. However, if you have any customizing around "Mobile Device" in your environment, you will need to review and possibly adjust them regarding:
Data definitions
Import definitions
Compliance rules
Workflows
User Interface
Search Queries
Updating from previous versions
Important and Breaking Changes
Solved Problems
Please check solved problems that are relevant to you since your currently installed version has been released.
Supported Versions
The setup program can be used to update existing installations of product version 8.0.2 or higher.
Updating from Version 8.1.0.1649
If you are updating from version 8.1.0.1649, you must remove following files from folder <setup folder>\root\web\bin before updating to this version:
extensibility.dll
update4u.Templates.VS2010.Addin.Workflows.dll
update4u.Templates.VS2010.Core.dll
Expired Maintenance for Version 8.1
Please note that with general availability of version 9.1 the maintenance for "Workspace Management 8.1" (latest update version provided is 8.1.4) has expired. We strongly recommend that systems with this version are updated to a supported product version as soon as possible.
General Information and Resources
Available information and resources about the product: