Getting Started with ZScaler (Admin) in MyWorkspace
Last updated
Summary
ZScaler was started in 2008 when a number of industry veterans, including CEO Jay Chaudhry, came together to create the next step in network security. ZScaler was built on several foundational observations, including the fact that business and personal applications had begun moving to the cloud, Web 2.0 was leading to the evolution of web-based apps, and that the adoption of mobility meant that users could be working from anywhere. These observations generated several tenants of a next generation security architecture, including:
Perimeter-based security appliances can't provide real protection, because both users and the apps that they are seeking no longer reside within any perimeter.
Point products, even those considered best-of-breed, are not designed to interact with one another for to a holistic perspective – IT sees only pixels, not the picture.
The majority of unresolved threats come from the internet, so the most effective place to handle security is in the cloud between the users and the web.
Threats evolve constantly, and to catch zero-day exploits before they hit the network it is impossible to rely on signatures alone.
Goal
After completing this getting started guide you will be able to connect an existing or new ZScaler tenant to Matrix42 MyWorkspace. This means it's possible to federate ZScaler with your existing on-premise or cloud based infrastructure, e.g. Active Directory, Azure Active Directory or Google Apps for Business.
First Step: Signup for Matrix42 MyWorkspace
Visit the MyWorkspace welcome page and signup for a free new tenant our log into your existing MyWorkspace tenant. After that visit the applications section in the administration area to register ZScaler as a new application.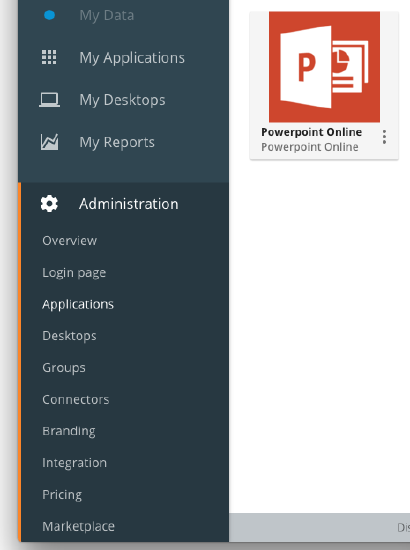 Second Step: Register ZScaler as new application
ZScaler can be registered as a new application in MyWorkspace. This process gives your end users who have permissions on the service seamless access. Start the registration process by pressing the "+" button in the upper right corner and selecting "ZScaler Admin" or "ZScaler" from the applications catalog.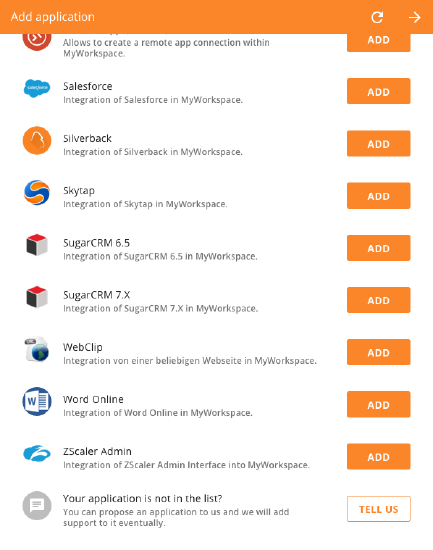 Please follow the described steps in the application registration wizard to connect the ZScaler Console to MyWorkspace.
More Information