Functional Principles
Last updated
Overview
This section explains the functional principles underlying Matrix42 Service Desk.
Scope of Features
Matrix42 Service Desk offers a wide range of features that assist you with management of all incoming support queries. For example, it helps you to register the reported incidents, forward them to persons or groups for solving, making the solved problems available in the knowledge base, etc. Matrix42 Service Desk also provides you with comprehensive reporting options. For example, you can generate automatic reports about the amount of work that was done per incident, or compliance with your Service Level Agreements.
System Integration
Together with Matrix42 Service Catalog, Matrix42 Service Desk belongs to the Matrix42 Self Service Portal, the end-user portal for Matrix42 Workspace Management. The IT Service Support and IT Service Delivery process areas are offered to customers (end users) centrally by using the Matrix42 Self Service Portal.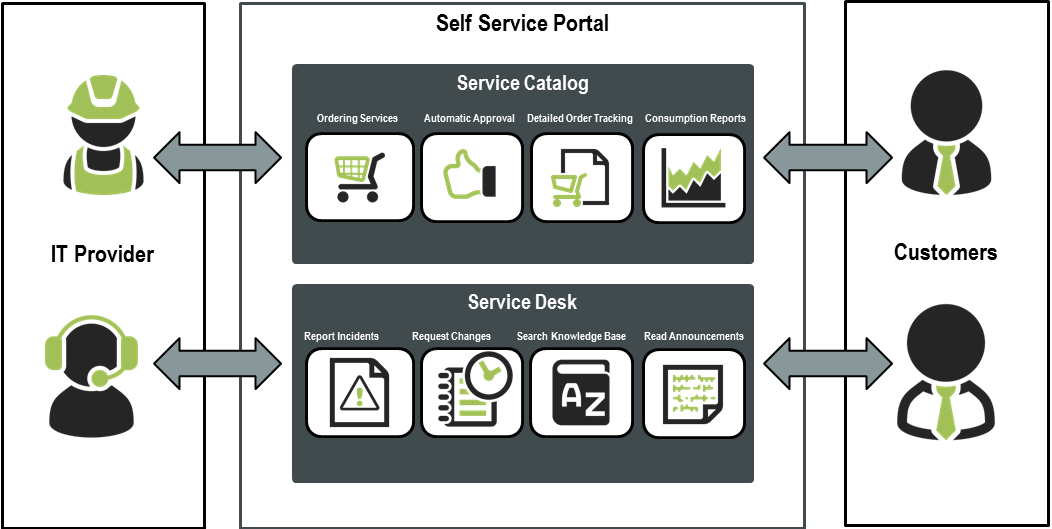 Inventory Management System
By using the integration framework of Matrix42 Workspace Management, you can link an inventory management system (such as Matrix42 Empirum) to Matrix42 Workspace Management to import company data such as hardware specifications and installed applications. This data is then available to you in Matrix42 Service Desk so that you don't have to waste time on such things as finding out the customer's system requirements.
Mobile Device Management System
By using the MDM Connector (for versions before 8.0) or MWM AirWatch/Silverback Data Provider (for 8.0 and later versions), you can import the data on the registered mobile devices that are used in the organization from the Matrix42 Mobile Device Management system into Matrix42 Workspace Management. End users can register additional mobile devices at the Matrix42 Self Service Portal in the Matrix42 Mobile Device Management system. If a mobile device is lost or stolen, you can apply security measures to protect company data on the mobile device by using Matrix42 Service Desk.
Active Directory/LDAP
By using the Active Directory Data Provider, you can gain write access to the Active Directory/LDAP service and, from within Matrix42 Service Desk, automatically make changes to Active Directory/LDAP. For example, you can unlock a user account directly from within an incident.
Email
If you connect Matrix42 Service Desk to your email system, you can be informed about order notifications, approvals of pending appointments and deadlines as well as upcoming tasks.