Managing Queue Profiles
Last updated
Queue Profiles are used to manage the responsibility of a queue and the visibility of activities assigned to or created in the queue.
The role 'EQM Management' is meant to be used for overall management of queues. An additional security role assignment needs to be in place in case members of the 'EQM Management' role need to work on activities.
Adding a Queue Profile
A new profile will be added from the Navigation Item 'Queue Profile' (1) from within the Application 'Queue Management' by using the action 'Add Queue Profile' (2).
The first page of the wizard will ask about below details
| Name | Description |
| --- | --- |
| Queue Profile Name | Name of the profile. Later visible in the grid view |
| Queue Profile Description | Description of the profile |
| Queue Managers | Responsible(s) of the queue which might be asked for approval in case option is active. |
| Ask queue manager on unassignment of activity from a queue | Setting to require approval (task based) on reassignment/unassignment of an activity from the queue. |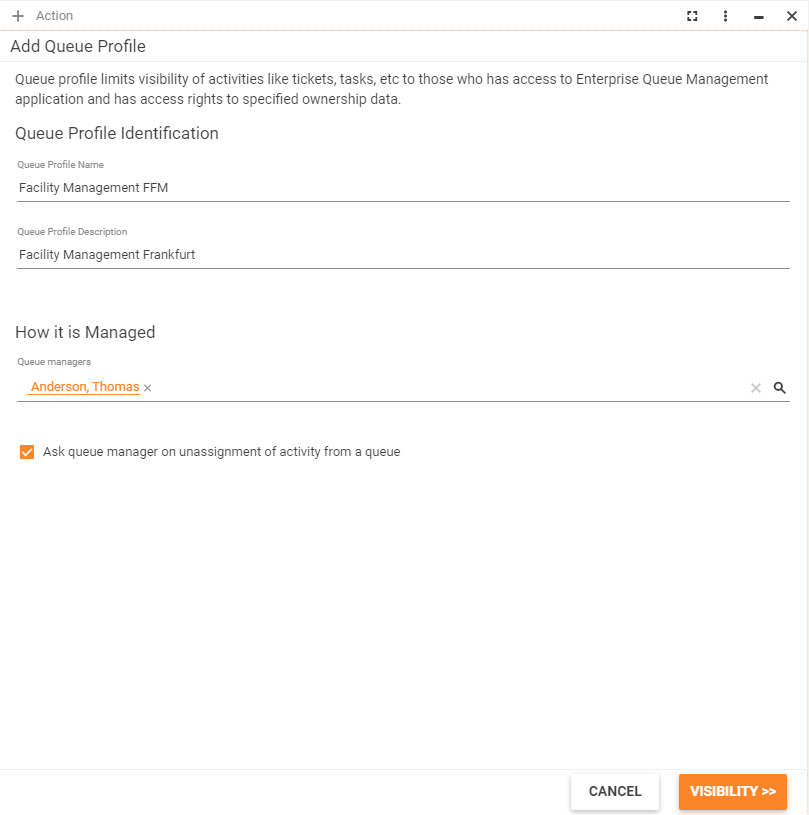 The second page is used to define ownership data to control the visibility of activities as well as the responsible role for processing them.
Defined values for Organizational Unit, Location and Cost Center are applied to the Activities created in / assigned to a Queue. Members of the role will have access to Activities of the particular profile. The members of the role do not necessarily be assigned to the same ownership data.
Default settings will be applied to the role selected within the Queue Profile. Therefore it is highly recommended to use newly created roles which will solely be used for Enterprise Queue Management. The exact settings are listed in the attachments section file 'Queue Profile Roles - Defaults.pdf'.
The default category will be used as the root category for new activities.
Only child categories of 'Queue Management' will later be available as selection on activities.
Categories should already be in place prior creating the profile.
After showing the summary the profile will be created based on the provided data and the responsible role will be given access to the Application 'Queue Management'
Editing Queue Profile
Once created, only below attributes can be changed
Name
Managed by
Status
Default Category
Description
Ask queue manager on unassignment of activity from a queue
The visibility settings of Organizational Unit, Cost Center and Location can't be changed. A new queue needs to be created on order to change these settings.
In case of custom reports which are using the ownership of activities to e.g. group them it is required to use the relation of the user the activity is reported on to get the correct ownership data.