Importing Ledger Accounts
Last updated
Overview
Ledger Accounts are used as posting accounts in billing data.
Ledger Accounts are managed in Contracts application → Procurement → Ledger Accounts page: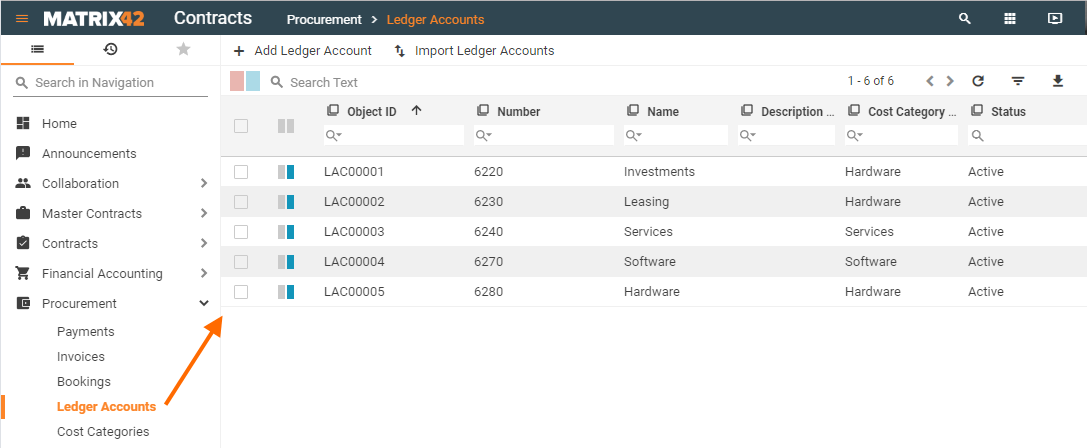 In Contracts Management there is an option to import Ledger Accounts using a standard template.
Ledger Accounts import
To import Ledger Accounts:
Go to Matrix42 Software Asset and Service Management → Contracts application.
In the navigation area, click Procurement → Ledger Accounts.
On the toolbar, click Import Ledger Accounts. The Quick Import wizard opens.
Follow the instructions.
Common rules to consider when editing the Import Template file:
Culture context of the data: when entering the text, consider the language specified in the quick import settings.
Not specified or ambiguous values: if no or more than one matching values are found, the value that is specified in the data source file is not saved to the system database.
Import processing details: a detailed report of the import processing stages is available in the Import Log Files section of the Administration application.
Explanation of the Import Template
All imported data can be modified manually in the user interface.
| Field Name | Explanation | Maximum Character Length |
| --- | --- | --- |
| Key | Required: a number used as an identifier of the ledger account. This information is a key field, which means that the import action uses it to determine whether to create a record or whether to update the existing record. | 50 |
| Name | Required: alphanumeric string for the name of a general ledger account. | 200 |
| Cost Category | Enter the key of the respective cost category. The link to the cost category is created automatically during the import. If no or several matching cost categories are found, the value that is specified here is not saved. | |
| Description | Optional description of the ledger account. | 1000 |
Ledger Accounts Import Example
The given example is a filled out template imported for the English (United States) [es_US] culture context of the data:
Successfully completed Ledger Accounts Import results in the following records in the Contracts Procurement section: