Matrix 42 Call Tracker: Scope of Features
Last updated
Matrix42 Call Tracker is a program that connects the telephone of a support employee to Matrix42 Service Desk. Matrix42 Call Tracker should first be installed on this support employee's computer. Communication between Matrix42 Call Tracker and Matrix42 Service Desk occurs by using the TAPI interface. This interface should be installed and supported by the telephone. Additionally, Matrix42 Call Tracker connects to Matrix42 Service Desk for calling information about related tickets, employees, or similar.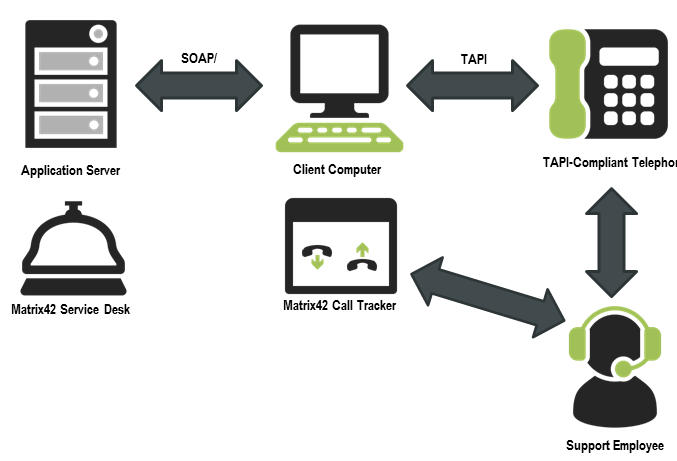 Matrix42 Call Tracker uses a standard interface that is supported by ordinary telephones and telephone systems. The adapted TAPI driver for the respective telephone and operating system should be installed on the client computer, and the device should be correctly configured.
If the basic requirements are fulfilled, Matrix42 Call Tracker offers the following features:
Start of the telephone call in Matrix42 Service Desk. Outgoing calls can be started from either the tray icon of Matrix42 Call Tracker or directly from Matrix42 Service Desk.
Caller identification by telephone number. For incoming calls the caller will be identified by the telephone number and will be checked against the user information that is stored in Matrix42 Workspace Management.
Automatic creation of incidents. New incidents in Matrix42 Service Desk can be created directly by using Matrix42 Call Tracker.
Listing of incidents that were previously registered by the caller. For incoming calls the caller is identified by the telephone number and already reported incidents can be directly accessed.