System Diagnostics and Server Logs
Last updated
Overview
When something does not work, and you can't understand what, run the system health check and check log files.
The system Administrators can run the System Diagnostics and Download Server Logs from the Administration application homepage:
System Diagnostics
The "System Diagnostics" Action can be executed by Administrators from the Administration application → Home landing page by clicking on the corresponding button. A check for many system components will be executed, and in case the issue is present, this will be shown.
The following states are possible:
Success
Information
Warning
Error
We highly recommend fixing issues and having the System Diagnostics pass all the validation rules with Success to be sure the system is working correctly:
In case of error or warning, click on the checked item and scroll down to the Details section for more information:
Fix the issues and re-run the System Diagnostics.
Verified Items
System Diagnostics checks the following items and system components:
Starting with DWP v.11.0 all system components check related to the Data Gateway, AppFabric, and legacy Alerting Engine for Compliance Rules (see items #14-20) will not be present in the System Diagnostics.
System Status
System Status dashboard is shown on the Administration home page.
System Status is run automatically when the home page of the Administration application is opened for the first time and is automatically refreshed every 3 hours after the last automatic check:
Click on the Run System Diagnostics action to update the System Status dashboard manually.
The dashboard shows when the last check has been run and a summary of the found issues of the following types:
Error
Warning
Information
For more details on the found issues, click on the checked item: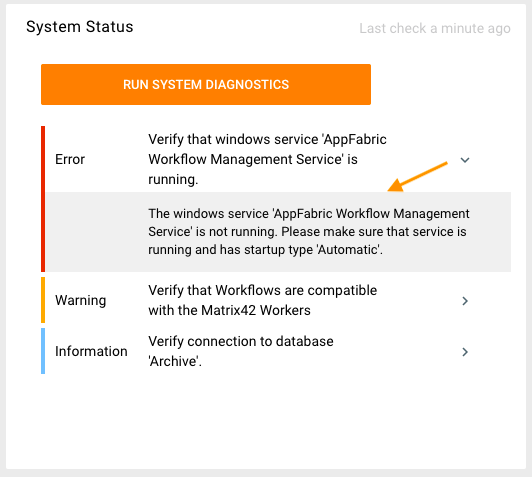 Download system logs
It is possible to download logs from the application, without directly accessing the Application Server. This can be done by clicking on the Administration application → Home → Download Server Logs button:
All Server Logs are downloaded locally to your device in a .zip archive.
You can also check specific logs from the Application Server. As a rule, in the default setup log files are located in C:\Program Files\Matrix42\Matrix42 Workspace Management\Logs\ directory.
For more information on the log file types, see also System Components: Web Application section of the page.