Managing Organizational Units
Last updated
overview
In a hierarchical structure, organizational units represent your business functionality, divisions, departments, etc. The Global organizational unit is generated during the installation, is the uppermost element in the organizational hierarchy, and must not be deleted. Please note that configuration items that are not explicitly assigned to another organizational unit, belong to the Global organizational unit.
Organizational Units are managed in Master Data application → Organizational Structure → Organizational Units page: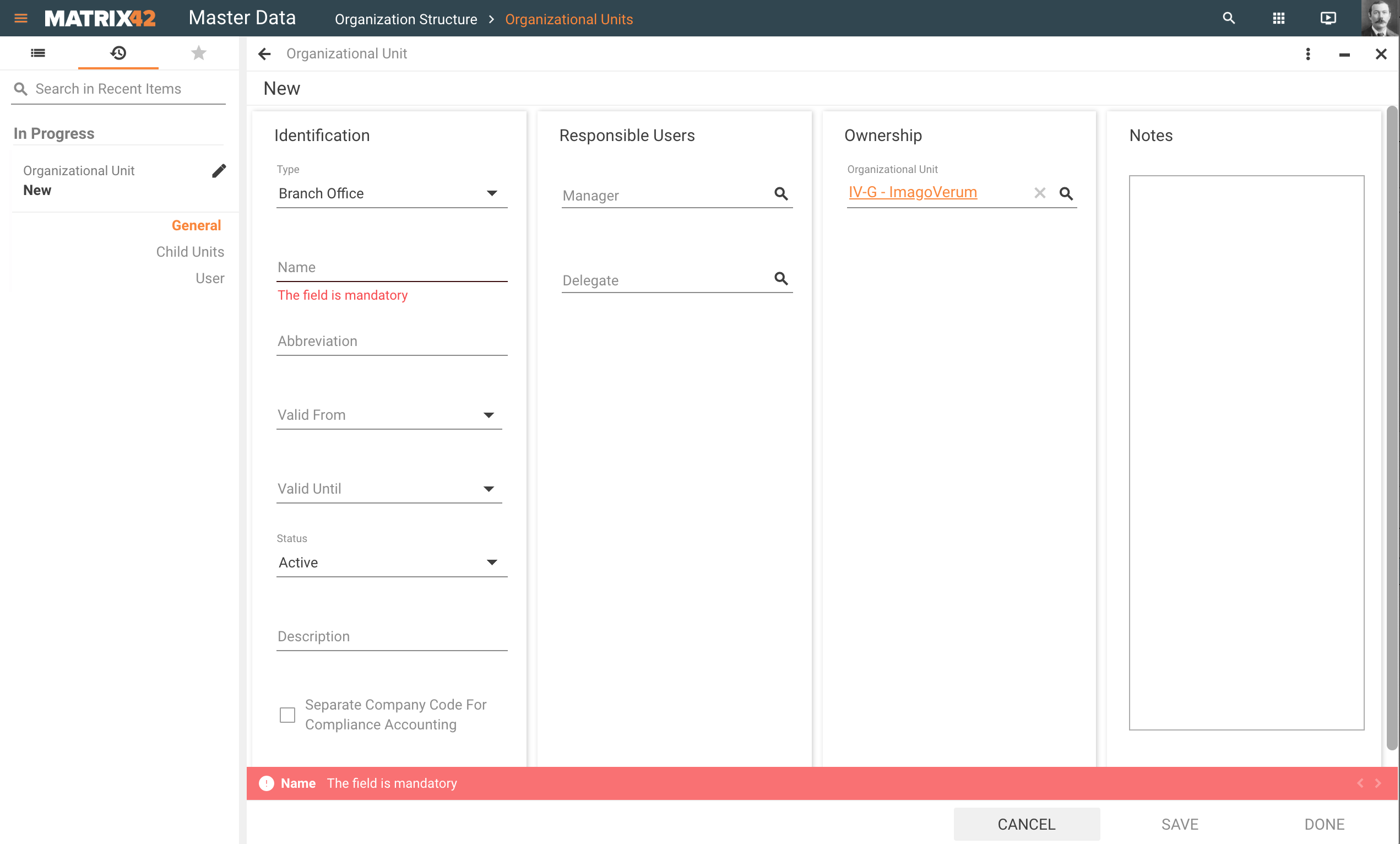 General
Identification:
Type: type of the organizational unit;
Name: name of the organizational unit;
Abbreviation: abbreviation that your company uses for the organizational unit;
Valid From/Valid Until: if the organizational unit will be used for a limited time only, enter the validity period here. Otherwise, leave the fields blank;
Status: the Inactive status is used, for example, for former organizational units that will no longer be used;
Description: additional information about the organizational unit;
Separate Company Code For Compliance Accounting: indicates whether the organizational unit has its own company code for compliance.
Responsible Users:
Manager: a person who is responsible for the organizational unit;
Delegate: representative of the manager.
Ownership:
Organizational Unit: if you create a new configuration item, you can use the corresponding button to link the configuration item to the respective organizational unit. For existing configuration items, you can create a link only by clicking Change Ownership in the action pane.
Notes:
Notes: Comments and notes of a general nature. You can edit these entries later.
Child Units
Specify the hierarchy for the child units of the organizational structure.
Actions
The following actions are available for Organizational Units:
Set Compliance Company Code: set the company compliance code;
Cost Saving Potential: generate the Cost Saving Potential report;
Financial Risk: generate the Financial Risk report;
License Inventory: generate the License Inventory report;
Change Ownership: change the commercial and regional assignment of this organizational unit by using a wizard;
Software Compliance: generate the Software Compliance report;
Import Organizational Units: import the list of organizational units from MS Excel by using the predefined import sequence and template;
Generic actions: Edit, Add, History.