Configuring Matrix42 Call Tracker
Last updated
Matrix42 Call Tracker
After successful installation, start Matrix42 Call Tracker and click Settings.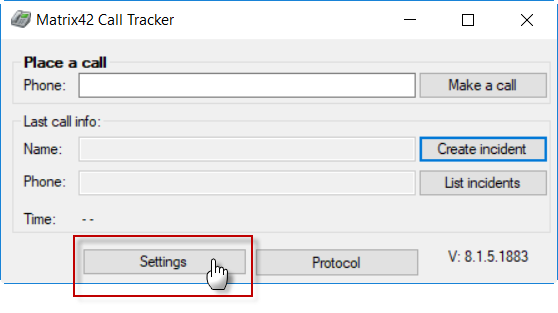 Configure the following settings:
Device to ingoing calls/Device for outgoing calls: Telephone that is connected over the TAPI interface.
Workspace Management Server Name: URL by which Matrix42 Service Desk can be reached.
Launch at Windows startup: Select this option to start Matrix42 Call Tracker automatically, together with Windows.
Logs: Folder where the log file will be stored.

When you are ready with the settings, click Save and Close. Matrix42 Call Tracker is now ready for use.
Matrix42 Enterprise Service Management
As of version 10.0.1 the Matrix42 Call Tracker is set up to recognize callers on multiple attributes.
These attributes are defined in 'Service Desk - Global System Settings - General' at the very bottom of the configuration dialog.
All attributes of the class 'SPSUserClassBase' are available.
Selecting multiple attributes is supported. Custom attributes will as well be available as long as they are directly created within SPSUserClassBase.